Bathroom Remodel Gulf Shores
Dreaming of a luxurious bathroom remodel? Our experienced, trusted company can make those dreams a reality.
Ready to renovate your outdated bathroom? 24/7 All Services Remodeling creates beautiful bathrooms with real value!
Call: (251) 981-0001 for a free consultation!
We specialize in partial or full renovations designed to your specifications. Our team of craftsmen works endlessly to ensure you're satisfied with the project.
We only use the best materials and quality fixtures to ensure you get the longest use and enjoyment of your bathroom. Get complete restoration of your bath area after suffering storm damage too.
From electrical and plumbing fixtures to flooring and cabinets, we have the skills and experience to create a beautiful and function personal space for you.
Bathroom Remodel Company Gulf Shores
Our bathroom remodel company in Gulf Shores has been in the industry for two decades. With real 5-star reviews and an A+ BBB rating, we're the contractor for you.
We're known for our outstanding customer service. Your bathroom remodel project will be completed both on time and on budget.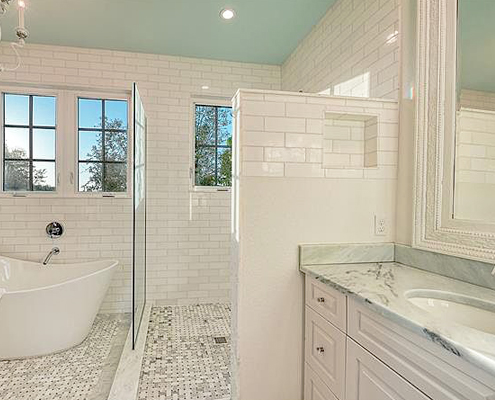 We ensure there's as little disruption to your daily life as possible during each project. Our team works hard to make your home mess-free once the remodel is complete.
Our bathroom remodel company in Gulf Shores is ready to design your dream bathroom! We're experienced in capturing your unique style whether it's contemporary, traditional, or rustic.
For custom bathroom remodel solutions, you've come to the right place. We're backed by twenty years of experience and recommended customer reviews. Homeowners count on us to renovate and remodel their bathrooms, time and time again.
Bath Remodel Cost in Gulf Shores
Did you know that remodeling your master bathroom is a great way to increase the value of your home? It's a beautiful way to upgrade the look and feel of your interior as well.
Many homeowners are curious about the cost of a bathroom remodel in Gulf Shores, Alabama. The national average per sqft for a bathroom remodel is between $100 and $250. Your bath remodel cost in Gulf Shores, AL will depend on several factors.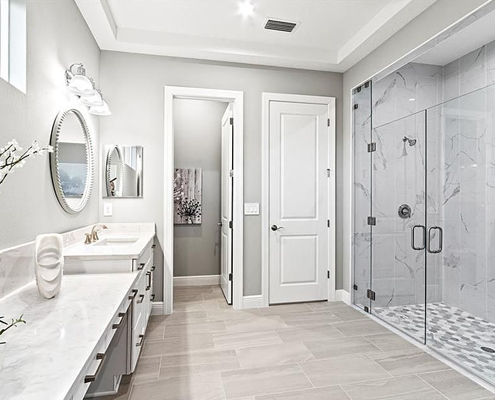 The fixtures, types of materials, and layout you choose will determine the project's cost. As well, the cost of labor will impact your estimate. Contact us for accurate pricing, efficient quotes, and outstanding customer service!
Our company aims to keep your bath remodel cost in Gulf Shores affordable. We can help you access 100% financing to fund your home improvement project. We value your time, your budget, and high-quality work that speaks for itself. Whether you're looking to sell your home or freshen up, we're the contractor for you.
We provide bathroom remodel services in Gulf Shores, AL, and the surrounding areas. Call us or contact us online to learn more about our renovations!