Plumbing Services
Plumbing problems almost never happen at convenient times. The last thing you need is to pay an extra fee because it's after hours. Our usual, affordable rates apply whether you call us at 2:00 a.m. on a holiday or a regular weekday afternoon.
Get Emergency Plumbing Repair Services to all of Baldwin County, 24 hours a day. We install, repair and replace water lines and sewer lines too.
Call 24HRs (251) 981-0001.
Our business ours are 24 hours every single day and we can typically be there within an hour of your call! We take pride in offering you reliable plumbing repair services at a reasonable cost. We service all types of private homes and commercial businesses.
24 Hour Emergency Plumbing Repair Service
Looking for an emergency plumber in the middle of the night? We're it! We repair water lines and wall leaks and our sewer inspection camera can locate the source of the problem under slabs and other hard to diagnose places.
We can fix, replace, or install your water main and have trenching equipment that lets us handle the job quickly. Once the repair is made, our staff of drywall repairers and professional painters will restore the location of your leaks to its original state.
Some of the most common service calls we get are for:
Clogged Drain Clearing – With a variety of types, lengths, and sizes of augers and motorized snake machines, we can unclog any sewer line, drain or commode. If your garbage disposal needs to be replaced or repaired, we'll do it right and at a great price.
Grinder Pump Service – Is your grinder pump light flashing? If so, call us for fast grinder pump service. We can repair or replace your grinder pump, and we offer a preventative maintenance program at affordable rates. The average life of a well maintained grinder pump is 8-10 years. Our preventative maintenance program includes an annual thorough cleaning and inspection of your grinder pump basin, floats. We make it easy for you, and we'll even remind you each year by calling you to schedule the appointment. We sell, service or repair any make and model of grinder pumps. Some grinder pumps cannot be easily repaired. If it is necessary to install a new grinder pump, we will install a type of pump that allows for convenient future repairs.
Water Heater Repair – Did you know that if you drain and inspect your water heaters every year, you'll extend their life by years? We replace and maintain water heaters and keep a number of sizes and styles in stock so we can meet your needs at any hour of the day or night.
Considering updating your old pipes? We specialize in replacing pipes made from polybutylene. According to Wikipedia, polybutylene water pipes are no longer accepted by the United States' building codes and have been the subject of class action lawsuits. There is evidence to suggest that the presence of chlorine compounds in water will cause deterioration of the internal chemical structure of polybutylene piping and the associated acetal fittings.
Plumbing Replacements & Upgrades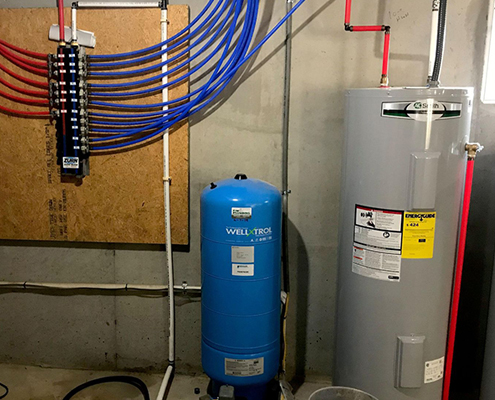 Let us re-plumb your house using PEX (polyethylene) pipe. PEX tubing is widely used to replace copper in plumbing applications. According to one estimate, residential use of PEX for delivering drinking water to home faucets has increased by 40% annually. Today, PEX has quickly become one of the most widely used plumbing pipe upgrades in residential and commercial applications.
In 2006, the Philadelphia Inquirer recommended that plumbing installers switch from copper pipes to PEX. What we're seeing now is that copper pipes and PVC pipes are increasingly being replaced by PEX. Some of the most compelling benefits of using or installing PEX pipe in plumbing include:
Flexibility. PEX has become a candidate for use in residential water plumbing because of its flexibility. It has the ability to twist into a wide-radius turn if space is permitted, and accommodate turns by using elbow joints. Moreover, it can handle short-radius turns. In contrast, PVC, CPVC and copper all require elbow joints. In cases where PEX needs to be placed at sharp 90-degree turns, it is essential to connect two PEX pipes with an accommodating PEX elbow joint.
Accessibility. PEX can run directly from a distribution point to an outlet fixture without cutting or splicing the pipe. This reduces the need for potentially weak and costly joints and decreases the drop in pressure due to turbulence induced at transitions. Since PEX is flexible, it is usually possible to install a supply line directly from the water source to an appliance using just one connection at each end.
Quality. Since PEX pipes typically have fewer sharp turns, there is greater water pressure where it is needed, such as at sinks, showers, and toilets.
Cost efficiency. The cost of materials is approximately 25% of alternatives. One account suggested that the price of copper had quadrupled from 2002 to 2006.
Easy installation. Installing PEX is not as labor intensive as copper pipes since there is no need to use torches to solder pipes together, or to use glue to attach pipes to fittings. Builders putting in radiant heating systems found that PEX pipes "made installation easy and operation problem-free." PEX connections can be made by pushing together two matching parts using a compression fitting, or by using an adjustable wrench or a special crimping tool. Normally, fewer connections and fittings are needed in a PEX installation.
Reliability. It neither corrodes nor develops apparent "pinhole" leaks.
Fire resistant. Copper piping required soldering using torches which made it vulnerable to fire. With PEX there is virtually no danger from fire. Overall, PEX piping is much more harmless to install. According to the U.S. National Fire Prevention Agency, torches used for soldering metallic plumbing ranked as one of the top-ten leading causes of house fires each year.
Plumber Approved. Most plumbers are now experienced in using PEX.
Adaptability. Manufacturers make fittings that allow installers to join a copper pipe on one end with a PEX line at the other. Producers also give options to condense or expand the diameter of the pipes.
Longevity. The beneficial properties of PEX make it a candidate for progressive replacement of metal and thermoplastic pipes, especially in long-life applications because the expected lifetime of PEX pipes is up to 50 years.
Suitability for hot and cold pipes. A typical procedure is to use color coding to lessen the possibility of confusion. Usually, red PEX tubing is used for hot water while blue PEX tubing is used for cold water.
Durability. The general position is that PEX plastic materials are slower to burst than copper or PVC pipes, but that they can burst eventually if frozen long enough. One account suggested that PEX water-filled pipes frozen over time will swell and tear. In contrast, copper pipes rip and PVC shatters. In 2007, home expert Steve Maxwell suggested that PEX water-filled pipes could endure "five or six freeze-thaw cycles without splitting" while copper would split apart promptly on the first freeze. In new unheated seasonal homes, it is still recommended to drain pipes during the winter months or take other measures to prevent pipes from bursting because of the cold. In new constructions, it is recommended that all water pipes be sloped slightly to permit drainage, if necessary. Copper and iron pipes can experience corrosion leaks, but PEX does not have these problems.
Environmental Benefits. PEX used in radiant heating is better for the environment than a copper choice.
Conventionality. Orthodox foam wrap insulation materials can be added to PEX piping to keep hot water hot, and cold water cold.
Our plumbers provide complete plumbing installation and offer 24 hour plumbing repair services in Gulf Shores, and all of Baldwin County, AL.