Kitchen Remodeling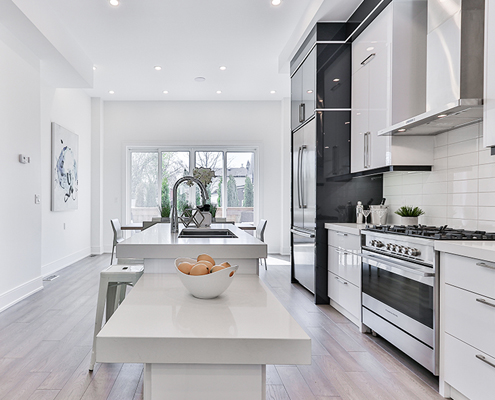 Are you looking for professional kitchen remodeling at a reasonable price? If hiring a licensed and reputable contractor is as important to you as it is to be affordable, then 24/7 All Services should be your first call.
Would you like a kitchen remodeling estimate that you can rely on?
Our's are in writing and guaranteed to stay on budget!
Call Us Today: (251) 981-0001
Whether your kitchen is outdated, too small or just plain ugly, we can give it the makeover you want at a great price. We are licensed, insured and above all, reputable. View our kitchen remodeling pictures for examples of our work.
Kitchen Remodeling Company in Gulf Shores
Did you recently buy a house or condo that is stuck in the 1980's? As a kitchen remodeling company in Gulf Shores, we specialize in transforming these outdated cooking spaces into beautiful, clean and stylish kitchens. We have decades of experience and a strong reputation for providing quality kitchen remodels on almost any budget.
Some of the kitchen remodeling services we're frequently called on for include:
New Kitchen Counters – Granite, Wood, Stone, Cement or Formica.
New Kitchen Cabinets – Real Wood, Glass Front, Shaker, Base Cabinets, Wall Cabinets.
New Kitchen Flooring – Tile, Wood, Laminate.
New Kitchen Sink – Stainless Steel, Double Sinks, Single Sinks, Copper Sinks, Farm House Sinks.
New Kitchen Appliances – Stainless Steel, Black, Gas, Electric, Refrigerator, Stove, Oven, Dishwasher.
New Kitchen Lighting – Canned Lights, Pendant Lights, Recessed Lighting, Dimmable Lighting.
From simple kitchen makeovers that include new paint, light fixtures and flooring to complete renovation, we're trusted to make it happen on time and on budget.
Kitchen Remodeling Cost
Now that you've found the right contractor to renovate your kitchen, it's time to learn more about the cost. The average cost of kitchen remodeling in Gulf Shores is $15,000. That being said, smaller projects can be done for $5,000 or less and larger, more elaborate projects can cost $25,000 or more.
So, why is there such a spread in prices? The answer comes down to customer preference. If all we're doing is installing new flooring, lighting, faucets and paint; the cost for a small kitchen remodel is relatively low.
However, if we're, "gutting" the kitchen and designing and building a completely new one from the ground up, the price will be higher. Since we provide electrical and plumbing services, we're able to offer some of the lowest prices.
Whatever your budget is and whatever your kitchen remodeling dreams are, we're sure to provide you with a beautiful new kitchen at a great price.
24/7 All Services provides Kitchen Remodeling in Gulf Shores and all of Baldwin County AL.