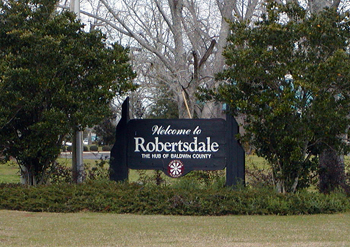 Robertsdale, AL Repair Service
We are a local plumbing, electrical and remodeling service in Robersdale!
Call us today! (251) 947-0003
The Southern Plantation Corporation of Chicago, Illinois, founded Robertsdale in 1905. They chose the City's present location largely because of the fertile farmland and the fact that the Louisville and Nashville line had just recently made extensions to Foley, Alabama. The town was named after one of the officials of the Corporation, Dr. B.F. Roberts, and was incorporated in 1921. Nestled in the middle of Baldwin County, Robertsdale is a quickly growing city with a small town atmosphere.
Robertsdale is called the Hub of Baldwin County. The City's central location provides quick and easy access to the beautiful white sandy beaches of Gulf Shores, Alabama, and the historic ports of Mobile, Alabama and Pensacola, Florida. Included within the city are numerous parks, churches, shops and restaurants. The city provides its own utilities that include electricity, natural gas, water and sewer services. The city also provides a public library that offers several public computer terminals, children reading programs and current best sellers.
Robertsdale is growing both with industry and residential dwellings. A good hometown atmosphere is evident here and a growing number of people are calling it home.